More than just Golf, Courses!
During the Coronavirus outbreak, the Presidio showed us what it might be like if the general public were also allowed to enjoy urban golf courses. It should continue.
Let me first tip my hat to the Presidio Trust. While authorities across the region have been restricting access to parks during the Coronavirus, the Presidio Trust, who operate the Presidio Golf Course, quietly made the whole course available for the general public to enjoy.
It was a beautiful thing.
Perhaps too beautiful, and perhaps too quiet. I didn't discover it until the last week before the club re-opened. It was so nice, I want to see more.
I've lived in the Presidio for over 15 years, and in all that time had never really seen much of the golf course. I ran through it once back in 2004 and was shouted at by some golfers. I never went back.
But the Presidio Golf Course is a public space and it is exceptionally beautiful; even more so with families picnicking, kids building sandcastles in the bunkers, and the odd scofflaw playing fetch with their dog. As I walked the course on Saturday, I felt I had fallen into the caricature of a perfect utopia that you might see on TV.
Others noticed too. Matt Brezina coined the tag #presidioPeoplesPark on Twitter, and called for it to carry on into the future in a longer article on SFStreetsBlog. Commentary: Presidio Golf Club Should be a Park for All
It's a tantalizing idea.
Unfortunately, on May 4th, the Governor gave approval for golf courses to return to business. The Presidio Golf Course is once again back to golfing. Even though shelter-in-place restrictions continue, and San Francisco's mayor threatens to close inner-city parks for overcrowding, the public will now have even less places to get outside and recreate.
More than just Golf Courses?
The Presidio Golf Club is a full 18 hole course that makes up over 15% of the land in the Presidio. That's a lot of valuable real estate to set aside to a declining sport.
One could argue for a myriad of other ways this space could be put to better use. Affordable housing, more soccer fields, or even just a return to its natural state.
But for me, I found I actually quite liked the golf course. One of the most poignant feelings from my walk around the course is just how nice it is to have beautiful, cared-for open spaces with well manicured grass and rolling fairways. Golf makes this possible.
Enjoy these pictures from Zach Klein.
Golf courses are wonderful. It's just a shame we can't use them for anything but golf.
But what would it take to make these courses generally available to the public. Even if only for one day a week throughout the summer?
It's not a crazy idea. The old course in St. Andrews, Scotland, the home of golf, opens to the public every Sunday throughout the year. It's the oldest and probably most famous course in the world, and they've always done it that way.
Even though over a month of questionable behavior on the Presidio course had passed, with kids playing in bunkers, dogs roaming free, and teenagers chasing each other on bicycles, the club was able to re-open without much fuss. The public and golf courses can co-exist.
Let's put a price on that?
The Presidio Trust have often been forward thinking and willing to consider new ideas. With enough support, they might even be persuaded of the idea, but they'd probably also be reluctant to give up some of the $8.7million revenue the course currently generates.
But what if 'the public' could buy up tee-times too?
Currently green fees range between $50-150. Let's say there are between 100 and 200 people playing throughout the day. By my back of the notepad calculations, $10,000 could buy the course on a winter weekday and maybe $30,000 might get you the park for a day on a summer Sunday.
That seems a possibility?
If 3000 people were willing to pay $10/head to use the park, that would likely bring in an equivalent revenue to golf.
Or, consider that SF Rec and Parks has a budget of $230million. What if just $1million of that were carved out for public recreation Sundays on golf courses throughout the year. That would be a bargain for the park system, and would tie in well with a number of city initiatives designed at making parks more accessible to all.
There's clearly demand for more weekend recreation space in San Francisco. On sunny weekend days, Dolores Park can be packed solid. Over 10,000 visitors reported on one day last year.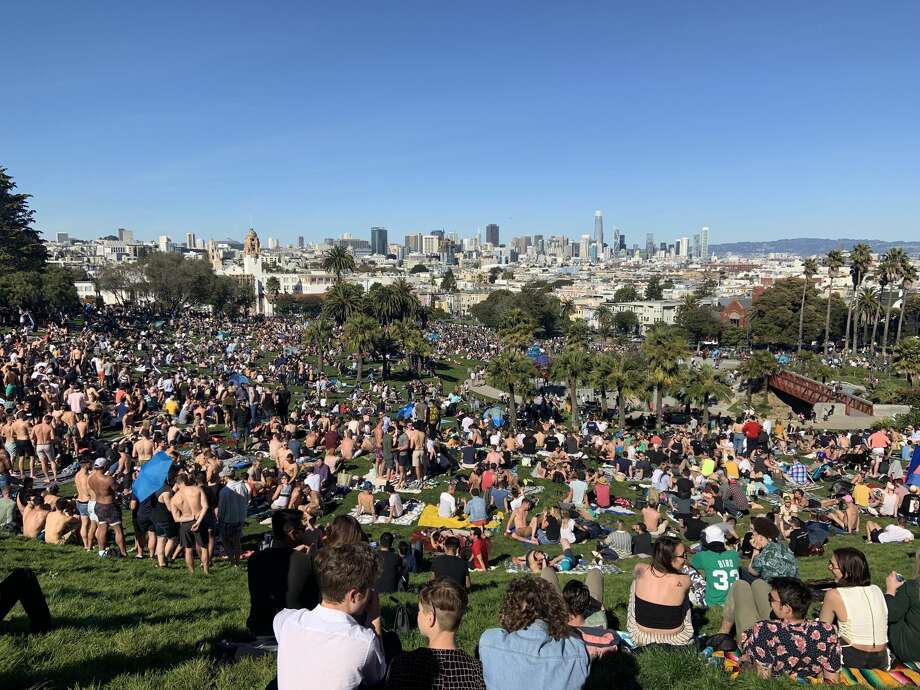 Other Courses?
The Presidio course is not the only option.
The city owns six public golf courses. Five of those courses lie within the city limits; a city that is only 7 miles by 7 miles wide. And that's not counting another three private courses in the Lake Merced area. Some of these public courses are in good locations for the city to create open spaces for the public on a rolling schedule.
Take the Harding Park courses near Lake Merced. There are 27 holes situated amidst large swaths of fairly dense housing and close to three other large private golf courses. It'd be an ideal location for more public access.
What might it be like 9 holes of the Harding Course were open to general access on Saturdays and Wednesday evenings. Presidio Course open to general access on Sundays and Thursday evenings, and Lincoln Park open on Tuesdays and Fridays?
Or could courses be designed to allow for multiple use?
Parts of Lincoln Park are open for public thoroughfare. While you can't go set up your picnic blanket on the 9th hole, you can at least walk through a small part of it. Could these other golf courses have safe trails skirting fairways, and picnic spaces near putting greens.
Or maybe just close off a few holes on weekends?
The point is it's crazy that public golf courses are being used exclusively for golf. These are public spaces and should be available for more.
Understandably, some golfers may not like this idea. But they should consider that almost 5% of the city of San Francisco is taken up by golf courses.
Meanwhile picnic tables in Golden Gate Park are booked out through the summer. Tennis courts are almost non-existent. First-come BBQ grills at Chrissy Field get snapped up at 9am on a summer weekend. Camping spots at Rob Hill campground are rarely available. Fire pits at Ocean Beach are a mobbed throughout summer evenings. And poor Mission kids have to fight it out with Tech-Bros who've booked online to use soccer fields.
Sharing our spaces is part of city life. Golfing should join in too.